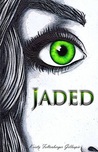 Jaded by Kristy Feltenberger Gillespie
After sixteen-year-old Jade discovers her late grandmother was poisoned, she's devastated yet determined to find the killer commune member and their motive.
With help from her mysterious friend Tyrian, and Peaches, the commune leader's sweet daughter; Jade unearths dark secrets that involve her mother's affair, her maternal grandparent's abandonment, and a plethora of murders. To make matters worse, someone is hell bent on ending Jade's mission for the truth.
Jade can't continue conforming to an evil society and yet she fears the Outside is just as corrupt. If she resolves to flee and is caught, the punishment is banishment to the slave cabins… and blinding.
My rating: 4 of 5 stars
I have read a lot of YA, and I hate to make a terrible pun here, but I have become quite jaded. So, when I crossed this book, I didn't expect to love it.
I was wrong.
This is one of the most original concepts I have seen in a long while and I was not only pleasantly surprised by how good it is, but also impressed by the imagination of the author that stood out so clearly in her writing.
The eye colour elements of this book are so interesting I never would have thought about the course of someone's future being decided by such a choice and that ended up being one my very favourite things about this story.
For a YA book, this is really a complex story with many underlying themes. The main character is well planned and thought through carefully. She is a strong character with a lot of good qualities and it is easy to get to know her, which made me feel closer to the story.
If you have not read this book yet you are doing yourself a disservice. Take a chance on it I am certain you will be happy you did.
Recommended.