Today, I am so pleased to welcome Maggie Anton to Readful Things for a guest post. The topic is an interesting one for authors and audiences alike. The border between fiction and non-fiction–how real is too real? The check below the guest post for a review of Enchantress. We'd love to hear your thoughts on the guest post topic, so feel free to drop a line with your opinion.
How real is too real?
Because the heroines in my Rashi's Daughters trilogy [11th-century France] and Rav Hisda's Daughter duo [4th-century Babylonia] are historical figures, I tried to write so they behave like real women in their times. This entailed months of research to ensure that I described them and their world as accurately as possible. And because I am a stickler about not closing the doors on my characters, it meant that they use the privy, menstruate, suffer in childbirth, and see children die young.

 

I admit that I seem to be a rarity among historical novelists in this regard, as only rarely does one even mention when a girl starts her period. Yet this is a significant point in any woman's life, and if she is a Jewish woman, it will be a central part of her marital relationship for years to come. I've also read plenty of historical romances that take place centuries before modern medicine, when average life expectancy was less than forty years and 40% of children didn't reach their tenth birthday, yet none of the characters, even minor ones, catch so much as a cold, let alone suffer a serious illness or injury.

 

Still I drew the line at too much reality. Rashi, the great Jewish scholar from whose commentaries I learned a great deal, describes six kinds of fleas and lice, but I decided to leave that out. Apparently nearly everyone lost teeth as they aged, so a large portion of adults had none or only a few. I left that out too.

 

On a positive note, real married women have sex, mostly with their husbands. Since I only write kosher sex scenes, my heroines only sleep with their husbands, and that is after they get married. To keep things real, not all my heroes are good in bed, at least not at the beginning, and sometimes my heroines are sexually frustrated. As may be surmised, I don't like to close the door on my characters, and that included the bedroom door. In other words, I left little to the reader's imagination.

 

I make an effort to describe my characters' meals, clothes, and dwellings in detail. This not only makes my historical novels come to life, but readers are usually more fascinated than bored by this glimpse into the past.

 

But sometimes the author shouldn't make things too real. If characters in a novel spoke like people really do, with all the "uh's," pauses, and "you know's," readers would close the book in a minute, if not sooner. Real everyday speech often includes blather about neighbors, relatives, and coworkers. But dialogue in a novel must set the scene, elucidate character, or advance the plot – and if it does more than one of these at a time, even better. Which means no inconsequential conversations like real people have.

 

Another difference between a fiction and reality is that in real life we meet all sorts of people who pass though our lives without making an impact. Indeed these are the majority of individuals we interact with each day. But every character in a book, even minor nameless ones, should serve a purpose. In early drafts of my first novel I created a horde of secondary characters for my hero and heroine to encounter in the course of their daily activities. My editor made me either delete them or at least leave them nameless, for otherwise my readers would expect them to turn up again or have some important role, and be sorely annoyed when they didn't.

 

Thomas Hobbes penned a well-known saying, "Life is poor, nasty, brutish and short." True as that may be, if historical novelists focused on characters whose lives fit that description, we would have few readers. Readers want a happy, or at least satisfying ending. When characters die, other than of old age or in their lover's arms, it should be a redeeming sacrifice or to show the antagonist's malevolence. In the third volume of Rashi's Daughters, I created a scene detailing the massacre of Rhineland Jews during the First Crusade. I used a description from a primary source, an "eye witness" account, but the carnage was too strong for my editors, who had me tone it down. Reality was indeed too real to put in my novel.

 

The well-written historical novel includes just enough reality to take readers on a mental vacation to a time and place they could never experience otherwise, all from the comfort of their climate-controlled homes equipped with indoor plumbing and well-stocked medicine chests.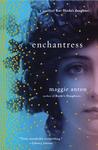 Enchantress: A Novel of Rav Hisda's Daughter by Maggie Anton
My rating: 4 of 5 stars
Initially I was afraid that taking this book under my review wing would be a little scary. The amount of knowledge I had prior to reading this novel when it came to Jewish history could have been held in a shot glass. Even so, through Maggie Anton's magical abilities as a storyteller, I found myself immediately immersed in a world of long ago with characters so rich and vibrant that they dance off the pages.
The way this author interweaves her story with historical threads and uses such beautiful imagery and wonderful word choices kept me up late at night turning pages. She not only has a gift for making you see the world of her characters through words, but also has a real talent for making her characters vulnerable and human at the core level. Reading her writing is a journey, and one that you will want to repeat again.
I loved that the story took unexpected turns and that there was no way to know what was coming next. What I thought at first, would be a rather difficult book to read, instead turned out to be exciting, compelling and a fine example of literary genius.
My only stumbling block along the way was the difficulty of keeping certain characters straight. There is a guide in the beginning to help with that, so the troubles were really more my fault than that of the author (difficult to keep checking back on a Kindle ereader.)
Overall this is a beautifully crafted novel with plenty of reasons to make me recommend it. A great book from a very talented author.
This review is based on a complimentary copy from the publisher and distributed through Netgalley. All opinions are my own.