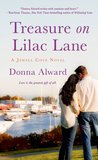 Treasure on Lilac Lane by Donna Alward
My rating: 4 of 5 stars
In the beginning, I didn't enjoy this book as much as the previous in the series, but that changed soon enough. Within a few chapters I was happily settled back into Jewell Cove and loving this story.
Once again, Donna Alward reminded me why she has become one of my very favourite authors. Her characters are heartfelt and her story is captivating, bringing together everything you want in a romance as well as a small town atmosphere that allows you to feel close to the characters. She handles tough subject matter such as death and addiction with grace.
In this story some of the characters from the previous book take centre stage, whereas before they were supporting cast. I love the way this author connects her characters through more than just family relationships and friendships. Through the use of common places, the local diner, the jobs the characters do and the course life takes them in, they develop bonds with one another and with the reader.
I am looking forward to seeing what she does next. Recommended for those who like depth in their stories and want to feel like they are part of something special.
This review is based on a complimentary copy from the publisher and provided by Netgalley. All opinions are my own.