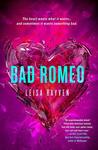 Bad Romeo by Leisa Rayven
When Cassie Taylor met Ethan Holt at acting school, sparks flew. She was the good girl actress. He was the bad boy about campus. But one fated casting choice for Romeo and Juliet changed it all. Like the characters they were playing, Cassie and Ethan's romance seemed destined. Until he broke her heart and betrayed her trust. Now the A-list heartthrob is back in her life and turning her world around. One touch at a time.
Cast as romantic leads once again, they're forced to confront raw memories of the heartbreaking lows and pulse-pounding highs of their secret college affair. But they'll also discover that people who rub each other the wrong way often make the best sparks. –from Goodreads
My rating: 4 of 5 stars
If you are into books that are steamy-sexy-I-can't-believe-she-said-that, then this is the book for you. Seriously, the chemistry between the two main characters in this book is off the charts.
I am not much for new adult books, nor am I usually one for the steamy books (they are usually so predictable,) but this book was interesting and held my attention. If you don't mind some graphic language and some super sexy love scenes, this book will likely appeal to you.
The female lead in this novel is a good heroine in her own right. She is smart and independent and brings a lot of life to these pages. I liked her from the beginning and was sorry to see her go at the end. As for the male lead, he is anything but your typical Romeo. He is not a brainless body as so many of these novels tend to feature. I think overall, this author did a really good job with these characters and I would definitely recommend this book to others.
This review is based on a complimentary copy from the publisher and was provided through Netgalley. All opinions are my own.