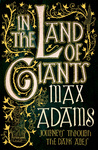 In the Land of Giants by Max Adams
The five centuries between the end of Roman Britain (410) and the death of Alfred the Great (899) have left few voices save a handful of chroniclers, but Britain's 'Dark Ages' can still be explored through their material remnants: buildings, books, metalwork, and, above all, landscapes.
Max Adams explores Britain's lost early medieval past by walking its paths and exploring its lasting imprint on valley, hill and field. From York to Whitby, from London to Sutton Hoo, from Edinburgh to Anglesey and from Hadrian's Wall to Loch Tay, each of his ten walk narratives form both free-standing chapters and parts of a wider portrait of a Britain of fort and fyrd, crypt and crannog, church and causeway, holy well and memorial stone.
Part travelogue, part expert reconstruction, IN THE LAND OF GIANTS offers a beautifully written insight into the lives of peasants, drengs, ceorls, thanes, monks and kings during an enigmatic but richly exciting period of our island's history.
My rating: 5 of 5 stars
This book is a breath of fresh air. Seriously, you feel like you are right there, walking alongside the author as you are reading, experiencing everything through his rich descriptions and historical knowledge.
If you are curious about the "Dark Ages," but do not want to read a boring, stuffy book full of facts, this is a perfect choice. There are photos and maps in each chapter and the author does an excellent job of describing how the locations have changed over the years.
I was absorbed by this book early on, and definitely want to make it a permanent part of my collection. I could see this being a great addition to travel guides and maps if you were planning a trip to these areas and wanted to take a tour. The author offers many little-known facts and details events in a way that makes them seem important and relevant even today.
Highly recommended.
This review is based on a complimentary copy from the publisher, provided through Netgalley. All opinions are my own.